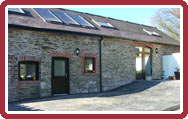 Siramik - Bed & Breakfast
Welcome to Siramik Bed and Breakfast accommodation near Alltwalis, Carmarthenshire in South Wales.
A converted stone barn situated on our farm in the Carmarthenshire hills bordering the Brechfa Forest with great facilities for forest walks, peace and quiet and overlooking a number of surrounding valleys.
There are 4 twin-bed rooms. The two ground level rooms rooms are en-suite, including the disability friendly room with adapted bathroom facilities. The family room contains two rooms that share the en-suite. Tea and coffee facilities are in the rooms as well as the standard facilities to make your stay comfortable. Every room has a flat screen TV. There is a lounge for relaxation and to socialize on the first floor overlooking the attached potter's studio. Plenty of free parking facilities are on the premises.
Breakfast made from local produce will be served in a room in our farm house. For lunch and the evening meal, visitors will make their own arrangements. Leaflets and brochures about local restaurants, pubs and other facilities are available in the rooms.
The building for the courses and overnight stay has been converted with renewable energy in mind. There are solar panels for hot water provision and a ground source heat pump is installed for heating the building. The conversion has been granted the Green Dragon award for using sustainable energy and being environmentally responsible.
A warm welcome awaits you at this special place. Your hosts Bryan and Yoka Kilkelly will make sure you have a pleasant and enjoyable stay and are there to help you with information and any questions you might have.
Tariff:
from £42.50 per person per night including breakfast
from £35.00 per person per night for accommodation only
Prices are based on two sharing a room. Please ring mobile: 07866 000326 (preferred) or01559 384292 (landline) for dates and availability.