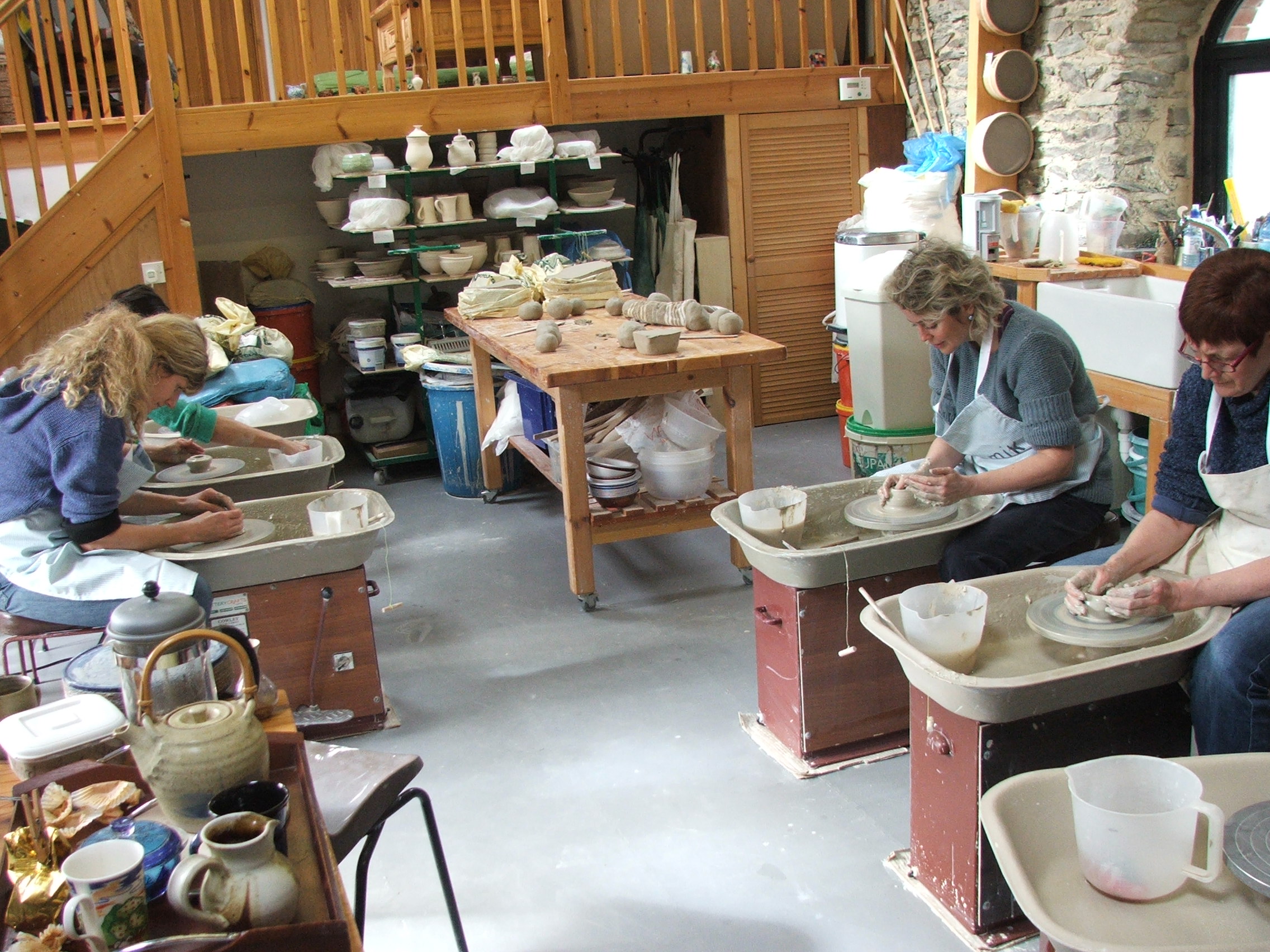 Pottery Courses
---
Courses available for beginners and more advanced students:
Half day and one day courses
Weekend courses including 4 star in-house accommodation
Weekly courses for local participants
Gift vouchers for friends or loved ones
Contents of the course
---
You will be taught how to prepare the clay, how to centre this clay on the wheel, how to create a cylinder from this and how to create shapes from the cylinder. On the one day course in the afternoon, we will concentrate on plates, larger bowls and different throwing techniques. The weekend course contains a more in-depth approach with finishing and decorating the pots on the second day. Two pots which you produces will be fired and glazed for free, if you would like to have more or your creations, a small contribution per pot is required for the care, firings and glazing. All courses are on offer all year around and are very suitable for beginners as well as more advanced students.
Half day and full day courses
---
These courses take place on dates that suits the students, so you can choose a date. Siramik is Covid compliant with the current covid restrictions. We start the course at 9.30am and work on till 1.30pm (half day) or 4.30pm (one day).
Students will have one-to-one tuition to maximize their potential. At the end of the course the students can choose 2 pots each that will be fired and glazed. If you would like more of your pots, they can be glazed and fired for a small contribution towards the costs.
Half day course is £65 per person and one-day courses are £120 per person.
Weekend Pottery Courses.
---
The weekend courses concentrate on the technique of making pots on the potter's wheel and you will notice quick improvements to your skills. Students are guided through the elementary process of preparing the clay, judging what the best consistency is, how to centre the clay and create a cylinder from this centered clay. You will learn this technique step by step and produce a variety of shapes from this centered cylinder.
You will arrive on Friday late afternoon when your room will be ready after 4pm. Breakfast will be served on both Saturday and Sunday morning and lunch is included too. The course finishes at 4.30/5pm on the second day. If you require staying another night in the accommodation, this is possible but not included in the weekend course price.
A weekend course £ 310 per person - (including equipment and materials, firing of two pots, two nights accommodation, breakfast and lunch)
Bed and breakfast for non-course partners from £ 45 per person per night including breakfast.
To confirm your booking a deposit of 20% of the total price is required. The balance of the total should be received one month before the start of the course. When booking less that one month before the course date, full payment is required to secure your place. All deposit payments are non-refundable.
The weekend courses dates for 2022 are as follows:
February 12th and 13th ‐ Now fully booked
March 12th and 13th ‐ Now fully booked
April 30th and May 1st ‐ Now fully booked
May 21st and 22nd ‐ Now fully booked
June 11th and 12th ‐ Now fully booked
July 16th and 17th
August 6th and 7th
August 20th and 21st ‐ Now fully booked
September 17th and 18th
October 8th and 9th
10 week course
---
This course is available for participants who are more local and is held in the studio on Tuesday and Wednesday evening from 7pm till 9pm and on Wednesday morning from 10am till 12.30pm. You pay for 9 lessons and receive the 10th lesson for free. If Siramik has availability you can start any time in the year on your chosen day. Over the consecutive 10 weeks you will be taught the technique of creating pottery on the potter's wheel.
The fee for the Tuesday and Wednesday evening from 7-9pm is £ 150 (for 9 lessons and the 10th lesson is for free) The fee for the Wednesday morning course from 10am till 12.30pm is £ 175 (pay for 9 lessons get the 10th for free).
Gift Vouchers
---
A birthday, wedding, celebration or anniversary, trying to find a real unique and individual present for someone? Siramik has gift vouchers for that special person you would like to surprise. They are available for all the courses and are valid for a year from the date of your celebration.
Please contact us so we can send you the voucher directly.
Community Courses
---
The potter's studio courses are available for local communities and individuals.
You can choose from:
A ten week course once a week for 2 hours (potter's wheel and hand build)
After school courses for children
Individual training on the potter's wheel
Group workshop (maximum 6)
Workshop to suit your requirements